EviDens De Beauté
Global Digital & eCommerce Manager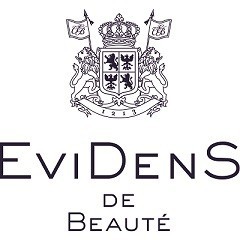 Our French-Japanese luxury cosmetics brand perfectly embodies high-tech expertise from Japan and French elegance and refinement, offering Japanese cosmetics and beauty products for women worldwide that meet their facial and body care needs.

EviDenS de Beauté skin care products offer significant and visible results after only two weeks, thanks to an exclusive ingredient of Japanese origin: Triple Collagen®, and an effective moisturizing ingredient from France: La Foux Spring Water. Our brand also boasts extensive expertise in masks, which provide highly effective action, sensory quality and meet a wide range of skin care needs.

Since its inception, EviDenS de Beauté has shown buoyant growth and is now present in over 26 countries with more than 600 spa and retail outlets around the world. Today, EviDenS de Beauté has corners in the most prestigious stores (Harrods in London, Tsum and Gum in Moscow), on leading airlines (Cathay Pacific, Aeroflot, Air China, etc) and in China on TMALL flagship store online platform. It also enjoys an exclusive global partnership with Rosewood Hotels & Resorts, featuring in each of its spas worldwide (Hotel de Crillon, Rosewood Hong Kong, etc).

To support its strong sales development, EviDens de Beauté is looking for his/her

GLOBAL DIGITAL & eCOMMERCE MANAGER

(Position based in Paris 75016)

工作地点 : Paris / 法国-法兰西岛
合同 : 03/2021 - 正式员工
Reporting to the General Manager and working closely with the Commercial & Marketing Directors, you:
- Drive the eCommerce strategy including customers acquisition, product launch campaign, promotion campaign, eChannel analysis and CRM.
- Drive and improve marketing initiatives such as emailing, SEO, SEM, paid search, display to support traffic growth, conversion, and retention of customers.
- Develop eMarketing strategies with the support of the marketing team including trade marketing via several market places, eCommerce campaign planning, digital media and social media campaign in order to build up brand awareness and drive traffic on eCommerce websites.
- Continuously support technical implementation, flow, design and maintenance of the platform (Prestashop) through regular testing and website content creation to increase conversion and basket size.
- Ensure thorough sales analysis to recommend and optimize product assortment and stock management.
- Select, manage and challenge best service providers / agencies in order to optimize budget and outcomes.
- Ensure excellent daily operation of eCommerce business activities and work closely with logistic center, warehouse, and other internal functions.

---
职务内容 : 销售 ( e-commerce sales ) 营销 ( 市场直销及客户关系管理 - digital marketing - community management - traffic management - SEO&SEM - e-commerce merchandising - affiliation - 展会营销 ) 传播 ( 网络管理员 ) 创意 ( user interface design )
产品 : 美容产品 ( 护肤品 )
产品类别 : 奢侈品
所处行业 : 制造业 ( 美容、化妆品 )
- You have 5 years minimum working experience in digital strategy and eCommerce B2C, ideally for cosmetics or luxury goods.
- You possess excellent knowledge of eCommerce development strategies, webmarketing tools and analytics (platform, social media, SEM/SEA/SEO.)
- You possess excellent content creation ability
- You are both a structured and agile person in order to perform in a small but well organised and entrepreneurial environment.
- You are rigorous yet able to think "out of the box".
- You can work in French and English.
---
Experience years : 5-10年
您的语言技能 : 英语 (商务应用流利) - 法语 (商务应用流利)